Since 1992

, NSPG has been providing the tools that allow contractors to increase profits and minimize business hassles. With our simple-to-use-tools, you can make being a business owner what you always wanted to it be - successful, profitable and rewarding.
---
Is Your Business lost in the fog?
This month we have an article by Mike Conroy (See the second picture below). He relates an actual experience to the absolute necessity to use the correct business tools and techniques to deal with the current business climate.
Some of you may know that a good adrenaline rush is what I look for when I am looking for a relaxing break. These days, my activity of choice is kiteboarding. Two weeks ago there was a good forecast for wind at our usual kiting spot. Our spot is a sand Island four miles out in the middle of Barnegat Bay.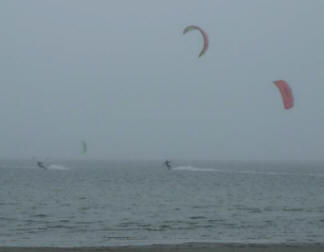 Three other kiters and I met at the marina, and we packed up two Wave Runners with our gear. However, there was an unanticipated problem. Heavy fog was severely reducing our visibility. So we decided to wait for the fog to clear. After about an hour the fog cleared just a bit, so we decide to take the trip to the island. Now, we have taken this trip no less than 50 times, and itís only a 15 minute ride north so a little fog shouldnít be a problem. RIGHT!
Once we got out in the middle of the bay the fog got thicker. So thick we could only see about 20 feet in front of us. Now this is starting to feel like a Stephen King movie! After about 90 minutes of riding and passing a small sand bar island twice, I knew we were lost in the fog. We were cold, nervous, running low on gas, running out of daylight, and in danger of getting stranded in the bay.
Get a grip man! Since I keep a map of the bay and a compass on my Wave Runner, I decided to find a buoy marker, get the number, and locate it on my map, and break out the compass. We find buoy #49, and locate our position on the map. We charted the course we need to travel.
I handed the map and compass to Vince, the kiter behind me, and appoint him my navigator. I told him to point me in the right direction which for some strange reason was still North after ripping through the water in that direction for 90 minutes. Well we now are ripping along for another Ĺ hour, and no sign of kite island. Suddenly, a thought pops into my head. Maybe Vince canít read the map and compass!
I immediately stop and have that discussion and find out thatís exactly what was happening. I made an error in assuming Vince could read the compass and the map. How may times have people been hired as service manager only to discover they canít manage people?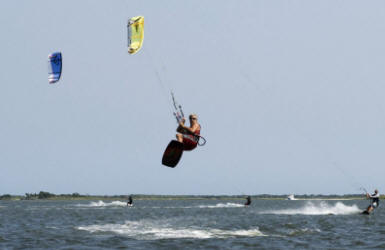 I had a quick discussion with Rob, the passenger on the second Wave Runner, and this time I confirmed that he could read the map and compass. I hand off the compass and map to him. Got him up to speed on our location, and within 10 minutes we spotted kites in the air. We had arrived at kite Island. Wow, thatís was an interesting journey!
Getting back home was much easier even in the fog because we were using the map and compass. Now, youíre asking, "What the hell does this have to do with my business?"
We had all been out to that island many times, however, this time something changed. The environment changed, and we needed to approach the journey in a different way. We needed a compass and a map, and we needed to follow our bearings to keep us on course.
Many of the clients Iíve talked to recently are experiencing a very different economic climate. Now more than ever, they need a compass and map to navigate these treacherous economic waters. They need to set their coordinates or bearings towards a profitable course.

A working budget is your map and compass, and your business' coordinates are the key performance indicators that you track on a regular basis. Without these critical business tools and techniques to measure your progress, you may wind up running in one big circle just as I did on our simple trip.
The other problem you may face is giving the wrong person the map and compass. So even if you have your budget, you must have your key performance indicators set. This way you can measure your business' progress, and adjust your course if you start to drift.
In this worsening economic climate, build your working budget based on realistic productive hours using a tool like Numbers Cruncher. But, you canít stop there. You need to measure your progress to your own profit island. You need software, like Performance Dispatch Plus, to keep you on course by showing your key daily, weekly, and monthly performance indicators. Visually graphed indicators will keep you on course to profitability, and even help to ensure you have the right person using the map and compass.
Mike Conroy
Give me a call to discuss your business, your numbers, or your flat rate books. Maybe I can help you navigate to your own business success.
---
Measure Monthly, Adjust Quarterly
& Achieve Annual Profit Goals
---
Performance Dispatch Plus

Performance Dispatch Plus (PDP) makes running your business easier and more organized.

PDP combines your Customer List with easy to use Dispatch Software, connects to Flat Rate, creates the Invoice, and syncs it all with QuickBooks. Along the way, it remembers everything so you can evaluate and improve your business without retyping anything.

At the end of the day, you can evaluate individual employees or your entire business performance with the built-in reports without retyping any information. Just choose a report, and the information is there.

Most of your daily operations like taking calls, managing estimates, employee scheduling, and invoicing can be controlled in Performance Dispatch Plus to simplify and organize everything you do.

PDP remembers everything so you can evaluate and improve the critical aspects of your business without retyping anything. That saves you time and money, reduces errors, and you can be sure it will get done because itís automatic.

For more information about Performance Dispatch Plus, visit nspgweb.com or call 800-841-8542, and let us show you how our system can work for your business.

Ask about our Special Introductory Pricing!

---

1. Billable Hours Sold
2. Time In Field
3. Close Ratio
4. Tasks per call
5. Ave Sale per Invoice
6. Ave Sale per hour
7. Total Sales
8. Net Profit%
9. Net Profit Dollars
10. Billable Hr Efficiency

Finally! Your business can be easier to manage every day.
---
On-Line News

Gas Price Affects the Bottom Line
In This Issue
Phone 800 841-8542
---
---
The freebie of the month is a web site or product that we feel gives you something worth looking at or using that costs you little or nothing.

OpenOffice is a free, open source replacement for Microsoft Office. Instead of spending hundreds of dollars for software that you may use for a few letters or a quick spreadsheet each month, you can take advantage of the free download of OpenOffice.
OpenOffice includes a word processor, spreadsheet, drawing program, database, and presentation manager. Each of these modules can read and write to Microsoft Office formats. If you install the free Microsoft Compatibility pack, you can even read the latest Microsoft formats.
OpenOffice operates just like its commercial counterpart, so someone who has used older versions of Microsoft Office should not need any extra training. It doess not have 100% of the features of the Microsoft product, but most users will not miss the features that it lacks because they never used them anyway.
If you need light word processing or spreadsheet applications for your home or office, OpenOffice deserves your consideration.
If you have a favorite Free site, let us know.
nspginfo@nspgweb.com
---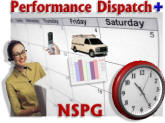 ---
It's so much easier to suggest solutions when you don't know too much about the problem.
Malcolm Forbes
There's an old saying about those who forget history. I don't remember it, but it's good.
Stephen Colbert
A large income is the best recipe for happiness I ever heard of.
Jane Austen
A banker is a fellow who lends you his umbrella when the sun is shining, but wants it back the minute it begins to rain.
Mark Twain
I'm a great believer in luck, and I find the harder I work the more I have of it.
Thomas Jefferson
If I only had a little humility, I'd be perfect.
Ted Turner
---
---
Some e-mail providers consider any e-mail message from an e-mail address not in your address book as "unwanted" or "spam." To continue receiving your NSPG Newsletter in your inbox, please add plumber@nspgweb.com to your address book now.