For over a dozen years, NSPG has been providing the tools that allow contractors to increase profits and minimize business hassles. With our simple-to-use-tools, you can make being a business owner what you always wanted to it be - successful, profitable and rewarding.
---
Why Shouldn't You Charge Enough to Earn a Profit?
I have been working with service business owners for over 17 years. Running numbers, developing profitable selling prices and implementing Flat Rate pricing. Over this period, one of the most important things I have learned is that it takes the business owner, service manager, and technician, more energy and anguish to get comfortable with the selling price than it takes for their clients.

Let's look at it logically. You build a realistic forward-looking budget based on your expenses and realistic billable hours. You review the budget, tweak the budget, and then print your Price Books using your real numbers. Simple. Yeah Right!
If you train your techs on delivering value and presenting multiple options to your clients, most clients will have you perform the work and be very happy. A few will decide not to have the work performed. You satisfy your client base, retain and develop quality employees, and earn a decent profit. Along the way, you build a healthy, successful business. This is how it works in a perfect world.
Before you can really implement your new prices in the real world, you must address the emotional factor of your new pricing. It's real, and you must understand how to overcome your fear.
Ok, the numbers are the numbers, but here's what goes on inside your head when you decide to make the change. If I put those prices in my Price Guide, I will lose all my clients. I will be labeled a rip-off, a thief. I will get a bad reputation and lose everything.
Get Real! Here's what I've learned from my experience working with so many different businesses over the years.
You will not lose all your customers. You won't lose anywhere near 25% of you customers due to your new pricing. You will lose more clients to bad attitudes from your customer service rep who answers the phone improperly. Or to a technician who is dressed like a bum and is not clean shaven. In fact, you will lose more clients due to a tech who smells bad than for being too high priced based on your real numbers. Here's a table I use in my Numbers Cruncher seminar that illustrates a worst case client loss scenario.
Effect of Price Change from $75/Hr to $243.20/Hr
$75/Hr
$243.20/Hr
Productive Hours
3000
2250
1500
750
Productive Hour Loss %
25%
50%
75%
"Labor" Sales
$225,000
$547,200
$364,800
$182,400
Material Sales
$75,000
$56,250
$37,500
$18,750
Gross Sales
$300,000
$603,450
$402,300
$201,150
Profit %
5%
25%
25%
25%
Profit
$15,000
$150,863
$100,575
$50,288
That is reality. If you're not charging enough to make a decent profit, what good is being busy all the time? Charge enough to make a reasonable profit based on your actual costs. If you have to work a little less while making more, so be it.
But, emotionally it's still hard to make the change to higher, profitable pricing. So, how can you get past the initial pricing shock?
You need to do whatever its takes. You need to grow personally and connect the new pricing to the new opportunity you're providing your employees. You need to understand and communicate the added value and benefits this new pricing is going to allow to offer your clients. You need to get past the fear that's in your head.
For example, a few weeks ago I got a real shock when reviewing a client's Numbers Cruncher Budget. As I going through the categories I noticed the owner's salary of $300,000. What really stood out was the fact that this was for a 4 service truck operation.
During the review, I asked the owner about the $300,000 salary, and his answer was very refreshing. He told me the he had been accustomed to living on $400,000 so $300,000 was a pay cut for his first year. Now, this owner was not from the trades, so he had no fear of charging what he needed to earn his salary. To him, it simply was not negotiable.
What I find very frustrating is a business owner operator with a trade background who has a problem with earning a reasonable salary for fear of losing his most price sensitive clients. On the other hand, I see a guy with no trade experience implementing his Price Guides one week after running Numbers Cruncher, and his techs are closing over 80% of their calls.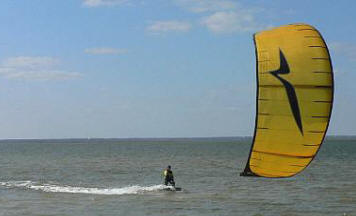 Here's an example from my own life that shows how we all need to overcome our fears to achieve our goals. I got involved in KiteBoarding about a year ago, and have been working on my skills every chance I get. I kite mostly in the bay where there is flat water and I only have to deal with two variables - Wind and Water.
But, my real goal is to kite in the ocean and surf the waves. This is quite a bit different from the bay because I'll have a third variable to deal with - big waves crashing into me. My fear of failure in the ocean held me back from my goal. My fear of injury or even death held me back from fully committing to a move from the bay to the ocean.
A few weeks ago I was planning on getting out in the bay when I ran into a kite instructor friend. He told me he was going to kite in the ocean and invited me to join him. He assured me he would assist me if I got into trouble. So here I go, I take a few steps into the ocean and the waves are breaking on me and knocking me back onto the beach. Every time I try a get out I get knocked back. One reason is that I was not fully committed to getting past the breaking waves. At some point I gathered the strength to fully dive the kite, and pull myself out past the breaking waves.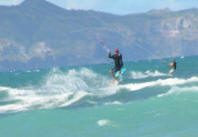 The only way get out past the breaking waves was to fully commit and go full steam ahead. Well when I finally got past the rough breaking waves, the water was calm and serene. Two dolphins joined me as I kite surfed down the coast. This time I was on top of the breaking waves, not getting crushed by them.

So my message to you is: fully commit to your pricing. You know it's right. Take a few breaking waves, and get past them to business serenity. If you need a little help in reaching your business goals, give me a call. We all need a bit of help from time to time.
Success is waiting.
---
Measure Monthly, Adjust Quarterly
& Achieve Annual Profit Goals
---
On-Line Resources

Electrifying Careers
10 Low Cost Ways to Market Your Business
In This Issue
Phone 800 841-8542
---
Freebie of
the Month
The freebie of the month is a web site or product that we feel gives you some-thing worth looking at or using that costs you nothing.
This Old House
Home Inspection Nightmares
Sometimes you think that you've seen it all. Well, here are a few photos that may surprise you, or perhaps confirm your own experiences.

If you have a favorite Free site, let us know.
nspginfo@nspgweb.com
---
Numbers Cruncher
Productive Hours
The latest version of Numbers Cruncher has a Quick Productive Hours (Billable Hours) calculator built into the Employees form. Productive Hours are a critical piece of information you need to accurately set your own profitable prices.
You can open the quick Productivity estimator by clicking on the Productive Hours tab on the Employee form.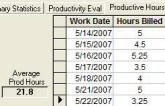 To get a quick estimate of an employee's Productive Hours just enter in the dates and actual hours sold for a few days. Numbers Cruncher will instantly show the average weekly Productive Hours for the selected employee.
Productive Hours is one of those concepts that is difficult for many businesses. If you base your prices on inaccurate Productive Hours, your prices will be wrong and you could be losing money on every job.
Productive Hours are the time for which your company is actually paid by a client. Other uses of your time like shop time and trips to the supply house are not considered part of your Productive Hours unless you're directly charging your clients for that time. If you include these hours that you are paying a field employee but you are not charging a client for in your price calculations, your profitable selling price will be too low.
Just because you pay an employee for 40 hours a week, does not mean that he is productive for 40 hours. If your field employees are only 50% productive, which is not unusual in a service business, your hourly prices could be half of what they should be.
Give the Productive Hours estimator a try, and remember that you must be sure that the numbers make sense for your business.
---
Van Magnet

Business Card Magnet

Magnetic Truck Sign
---
Coming Sooner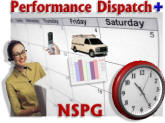 ---