For over a dozen years, NSPG has been providing the tools that allow contractors to increase profits and minimize business hassles. With our simple-to-use-tools, you can make being a business owner what you always wanted to it be - successful, profitable and rewarding.
---

I Need to Charge How Much?
One of the things we like to do at our Numbers Cruncher seminars is to ask the attendees what they charge per hour. After we collect the numbers, we select a volunteer from the audience and run their actual numbers.
One of the first times we did this exercise, we found a company that was charging $75 per hour including a hoped for 5% profit. After Crunching their Numbers, they agreed that their profitable selling price was really $243.20/Hr including a 25% profit. They immediately said that they could not charge that much because they would lose half of their customers.
Last month we addressed this type of situation this way:
Perhaps the worst critic of your accurately calculated price may be you. Many business owners Crunch their Numbers and are immediately on the phone to tell us that they could never charge that much. Their customers would all leave them... Do you want to cut your price and lose money on every job, or do you want to charge a profitable rate and offer your customer high quality service that matches your price??
At the seminar we took a look at a few very simplified scenarios to see the cost of the worst case scenario of losing customers due to a price increase. Here's what we found.
Effect of Price Change from $75/Hr to $243.20/Hr
$75/Hr
$243.20/Hr
Productive Hours
3000
2250
1500
750
Productive Hour Loss %
25%
50%
75%
"Labor" Sales
$225,000
$547,200
$364,800
$182,400
Material Sales
$75,000
$56,250
$37,500
$18,750
Gross Sales
$300,000
$603,450
$402,300
$201,150
Profit %
5%
25%
25%
25%
Profit
$15,000
$150,863
$100,575
$50,288
This chart illustrates the choice you have between working maximum hours at low profit, or working reasonable hours at a normal business profit level. As you can see from the table above, even the worst case scenario (losing 75% of your hours sold) while charging a profitable rate is better than the status quo. Most low charging companies can make a reasonable profit while working far fewer hours.
Most of our Numbers Cruncher users who raise their prices to profitable levels in their Flat Rate Price Guides see very little customer loss. In fact, many find that the higher level of service that they can afford to provide wins them more business.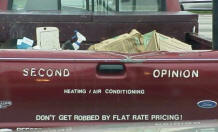 If you control your costs and accurately Crunch your Numbers, no one should question your prices. You're in business to earn a living. The only sure way to do that is to know your costs, add a reasonable profit, and get to work. It's your business, run it your way. Let other people set their own prices too low and work themselves out of business.
If you need a hand setting your business numbers, email Mike Conroy. He can help you combine your current numbers with your target company size, so you can set measurable benchmarks and build your own right-sized profitable company.
---
Measure Monthly, Adjust Quarterly
& Achieve Annual Profit Goals
---
On-Line Resources

The EPA has a web site with a PDF document highlighting easy ways to save water. This high quality document could be a good sales tool for your technicians responding to leaks and toilet service calls. Print it out, and keep copies in all your trucks.

Czech pig farm becomes energy source. Talk about thinking out of the box! Opportunities for new technologies will continue to grow. Are you going to take part in profitable new technologies?
In This Issue
Phone 800 841-8542
---
Freebie of
the Month
The freebie of the month is a web site or product that we feel gives you some-thing worth looking at or using that costs you nothing.
This month's freebie may be practical for some of us who will be heading out on vacation this summer, and may just provide some entertainment for others.
This month's freebie is a how-to from a site called wikiHow. This site is a collection of step by step instructions for a wide range of everyday and unusual things. One of our favorites is how to erase marks off a dry erase board.
Here's one of this month's featured articles.
1. Avoid the bear.
2. If you see a bear, turn around and move away.
3. Stand tall even if the bear charges you.
4. Know your Bears.
5. Climb a tree (maybe).
6. Play Dead (sometimes).
7. Fight Back.
Before you head out into the wild, go to wikiHow and read the entire article.

---
House Magnet
Van Magnet
Business Card Magnet
Magnetic Truck Sign
Coming Soon