Since 1992

, NSPG has been providing the tools that allow contractors to increase profits and minimize business hassles. With our simple-to-use-tools, you can make being a business owner what you always wanted to it be - successful, profitable and rewarding.
---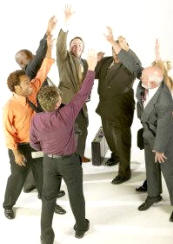 What's My Motivation?
The fate of your business rests with your employees. Whether you're a one-man-band, or a large company, productive, motivated employees are critical for profitability and long term success. Motivating your employees to continually perform at their best to meet and exceed your company's goals is a difficult challenge.
You expect your CSR to answer the phone efficiently every time to maximize the number of calls you can book. You expect your technicians to not only complete the installation efficiently, but to be a good salesman. You expect the office and other support staff members to perform their jobs well every day. Winning, serving, and keeping your customers relies on the performance of you and all of your employees.
What motivates an individual to the high level of performance the business needs is often as unique as the individual.
Most businesses rely on money as a key motivator. Good performance is rewarded with higher pay and bonuses. Unfortunately, studies have shown that money is only a short term motivator. The extra cash quickly fades from memory, and has little effect on future performance.
For many people, the recognition of superior performance is the true motivator. Many successful businesses combine the short term motivator of money with a system that recognizes and encourages superior performance. By posting goals and achievements where employees can see them is an easy way to accomplish this. Having the reputation as a "top gun" along with the financial rewards can provide both long and short term motivation for all employees.
Top employees enjoy the prestige provided by the public recognition. Other employees have a scale to measure their own performance, and a system that can lead them to the top. All employees can be motivated because they have a public system of clearly stated goals and rewards.
This type of system can provide the framework to motivate your employees in ways that really cover a broad range of proven motivational techniques. Here are a few of the considerations to take into account when setting up a system to motivate your employees:
Clearly state goals and expectations for each type of employee.

Have a feedback mechanism so that the employee knows what he is doing right and where he needs improvement.

Maintain a system to support the employee through training and resources to achieve his stated goals.

Set up a mechanism to provide public praise for work that is well done.

Enlist the employees in the process so that they can help refine and expand their goals to create a more satisfying career with your company.

Base rewards on concrete performance results so the employee knows he will be rewarded for achieving the goals established for the position.

Show how each set of goals contributes to the success of the business, and that the rest of the organization relies on their performance. Make everyone a part of the team.
The first step in setting up a "self motivating" performance system is to set reasonable goals. You need to know how your business is really performing so you have a basis for your goals. For example, if you do not measure your tech's performance, they can't know how they are doing. They will tend to focus on the last job they did not sell. If they have a bad day, it can spill over into the next day, and affect how they present themselves to prospective customers.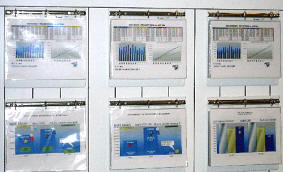 Your system for field technicians, can include publicly posting performance information like close ratio, productive hours sold, and average invoice. Short term numbers, and longer term averages should be posted. These numbers can inspire under-performing techs to work harder, and can keep a few sub-par days from discouraging a high performing tech.
Business managers should not neglect their own motivation. Managers must have goals, reviews, and rewards too. Management sets the performance tone for the entire business. Managers need to work hard to provide an example for employees.
The bottom line is that business performance goals must be set, actual performance should be measured and used as a motivator, and new goals must be set to keep top performers motivated. It starts with performance measurement, and yields more satisfied and motivated employees, more satisfied customers, and a more profitable company.
- - - - - - -
Give Mike Conroy a call to discuss your business, your numbers, your performance benchmarks, or your flat rate books. Take advantage of his experience working with hundreds of companies like yours to help you achieve your own business success.
Measure Monthly, Adjust Quarterly
& Achieve Your Annual Profit Goals
---
News You Can Use

On July 24, 2009 the Federal Minimum Wage rose to $7.25 per hour. I know most of our readers pay more than the minimum, but some may have temporary or new workers at this level. This change also affects the overtime pay for over 40 hours of work in any seven day period.
You can see how today's minimum wage compares to the past here. looking at the chart, $7.25 is about equal to the minimum wage in 1983 when Ronald Reagan was president. It is lower than it was from 1960 to 1982.

- - - - - - -
Periodically, the folks at HPH issue a notice of the price changes that they receive from their list of suppliers. This list is available to anyone who has subscribed to their price update service.
We have found over the last few years that these updates reflect current and future market conditions that are often hard to see from everyday news. For example, shortly after the economy started to tank in 2007, many suppliers rolled back projected price increases. Over the course of 2008, most price changes were sizable reductions.
The current report shows future price increases ranging from 3 to 5%. This swing to price increases over the last few months probably reflects higher raw material costs, and improved product demand. If the trend continues, it should translate into higher sales for our industries.
At NSPG, we are not projecting an increase in our prices in the near future. However, some of our current discounts will expire soon. Now is probably a good time to take a look at how we can help your business as the economy improves, and save some money in the process. Getting your numbers in order, Flat Rate Books printed, and software updated before your business picks up might make sense for you.
---
---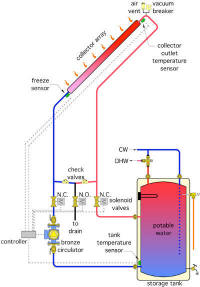 Interesting Online Items

Solar Drain Back System
---

Call 800 841-8542 today
to learn about our
easy, subscription plans for NSPG software products.