For over a dozen years, NSPG has been providing the tools that allow contractors to increase profits and minimize business hassles. With our simple-to-use-tools, you can make being a business owner what you always wanted to it be - successful, profitable and rewarding.
---
Charge enough to make a profit, because youíre worth it. However you must create the environment for it to happen.
Creating the Environment for Success
I was in Denver at a Nexstar Super meeting convention recently. By the way, this was one of the best industry events that I have attended. If you have not been to a Nexstar event, I highly recommend it.
After a busy and demanding day at the NSPG booth, I got together with some good friends, all Nexstar members, and we decided to go out for some dinner. We walked into this first class steakhouse, and the first thing we noticed as we walked through the doors was the fine woodwork of the oak panels, granite counters, and wonderful smells of sizzling steak. It was very pleasing and conducive to enjoying friendship, fine wine, tasty steak, and spending lots of money.

The moment we walked in we were whisked to a cozy oak paneled private room. At that point, the build up to the presentation was excellent except for one very troublesome issue which I tried to ignore. It felt like I was walking into a blast furnace. The visual experience was wonderful, but my physical experience was not as pleasant. I was overheating. I was thinking to myself, ďCould this be just meĒ? I hoped the private room was air conditioned.

All six of us were seated, and I looked around the table. It was not a pretty site. In comes our waiter dressed in a tux, and he proceeded to start his presentation about how the steak is aged four weeks and BLA BLA BLA. Nobody heard a word he said.
Why? The environment was not properly set for a successful outcome.
We were not comfortable, and this guy knew it and ignored it. He went right into his presentation. At that point, he was stopped right in the middle of his presentation and asked what's the deal with the AC. Itís 100 degrees in here! Arenít you hot in that Tux? (Remember weíre all Electrical, Plumbing, and Heating & AC Contractors).
The response we got was not what we were looking for. At that point, we got up and left. The poor guy never had a chance.
We left that fine restaurant that spent thousands to get us inside and hundreds of thousands to make the place look wonderful. But they neglected to maintain the temperature of their establishment. They lost at least $1000 with our party alone that night because of no AC. What a shame! Everyone lost out. We didnít want to leave and find another restaurant, the waiter lost his tip, and the restaurant lost big time.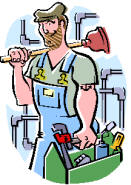 Hereís my point. You, as a service contractor, spend a lot to get a client to call you. You then spend more for people to answer their calls, even more on techs, trucks, tools and training. Now your tech gets to your client's home, and his shirt is stained and hanging out, heís wearing a baseball cap turned sideways, and he smells really bad. Well, he could go through his presentation flawlessly, but you clients arenít listening to a word heís saying.
They want him to leave, but even thatís not easy because most of your clients donít want to be rude. So they have him do the minimum work. Or, they make up an excuse like needing to talk it over with their husband to get rid of him quickly. If youíre not actively paying attention to technician performance, it could really hurt your business.
Thatís why you need to look at your total company presentation, and create the environment for success. It involves many factors that include what the customer sees, hears, and smells both physically and emotionally from your employees.
Take some time to sit back and visualize the sales/service process when a potential client responds to one of your ads for service. Visualize your potential client looking at your ad, making the phone call, talking to your CSR, meeting your technician, listening to your tech introduce him/herself and go through the presentation and then moving on to the diagnosis and solutions presentation. Visualize the client being brought through each step, and visualize how you can make the whole experience as enjoyable and stress free as possible.
After you have that process in place, itís time to measure performance. This will give you the feedback you need to make sure the process is being implemented properly. Two specific benchmarks are Close Ratio and Task per Call. They are very good indicators that you are creating the environment for success. Both of these indicators are automatically tracked in our soon to be released Dispatch Performance Plus software program.
We will examine some of these performance benchmarks in future issues of the newsletter.
Now go create your own environment for success.
---
Measure Monthly, Adjust Quarterly
& Achieve Annual Profit Goals
---