For over a dozen years, NSPG has been providing the tools that allow contractors to increase profits and minimize business hassles. With our simple-to-use-tools, you can make being a business owner what you always wanted to it be - successful, profitable and rewarding.
---
Good Business Practices
This past month brought a wide range of flat rate and business success stories our way. So, instead of a single article, we'll combine a few observations and some advice on how successful businesses do things that you can apply to your business.
Rick Newman, the business writer at usnews.com, had an interesting article about a recent Bruce Springsteen concert. It's hard to see how a concert by a 58 year old rock star could apply to our industry, but he makes several good points that are relevant to just about any business.
In the article he talks about how Bruce does the things successful businesses try to do every day. Things like:
Innovate.

Never let your customers rest.

Give the people what they want.

Share the Credit.

Love what you do.
He talks about Springsteen innovating in the way he presents his music. He adds new interpretations of old songs, add new instruments to the mix, changes the tempo and tenor of some songs to enhance and update them.
These are the same types of changes that successful businesses make every day. They add new products, move into new markets, change how they do things to take advantage of current fashion and technology. They push the envelope to stay fresh and attractive to their customer base. Click on Bruce's picture to see the whole article.
Many of you know Mike Conroy here at NSPG. While he's not nearly as old as Bruce is, he's always looking to push the limit and make the changes needed for success. Back in September of 2005 we wrote about his extensive wine making hobby. Last year, Mike decided he needed a more active outlet for his creative and competitive instincts. He took up kite boarding.
In May, while Mike was still early in the learning phase of the sport, we reported on his chosen sport, how it related to his attitude about getting down to business, and, especially, determining your own profitable selling price and overcoming your fear of raising your prices to your profitable level. Here's a bit of what he had to say in May.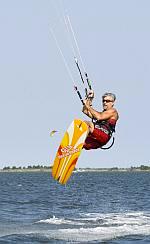 My real goal is to kite in the ocean and surf the waves. This is quite a bit different from the bay because I'll have a third variable to deal with - big waves crashing into me. My fear of failure in the ocean held me back from my goal. My fear of injury or even death held me back from fully committing to a move from the bay to the ocean.
So here I go, I take a few steps into the ocean and the waves are breaking on me and knocking me back onto the beach. Every time I try a get out I get knocked back. One reason is that I was not fully committed to getting past the breaking waves. At some point I gathered the strength to fully dive the kite, and pull myself out past the breaking waves.
The only way get out past the breaking waves was to fully commit and go full steam ahead. Well when I finally got past the rough breaking waves, the water was calm and serene. This time I was on top of the breaking waves, not getting crushed by them.
So my message to you is: fully commit to your pricing. You know it's right. Take a few breaking waves, and get past them to business serenity. If you need a little help in reaching your business goals, give me a call. We all need a bit of help from time to time. Success is waiting..
This month we also heard about another example of that can-do attitude, and the willingness to try something new to achieve your success in an industry just about as far from ours as you can get. An NSPG employee took a cruise on Norwegian Cruise Lines this past month.
NCL has broken from the long standing cruise tradition with their "Free Style" cruising. Essentially this is just an elimination of the regimented meal and entertainment times. On a cruise in the past, you at dinner when they told you to at the same table with the same passengers every night. This meant that you had the same conversations, same waiters, same everything each day of the cruise.
Under this old scheme, you were also expected to tip the staff a set amount ($20 per day per passenger) for the cruise. The idea was probably to assure the best service because at the end of the cruise, you would be tipping the staff based on how well they did. This was always a hassle on the last day running around giving out tips. It also made it seem like the only reason the staff did anything for you was because you might tip them.
Well, NCL has gone Flat Rate. They include the tip in your room charges at the rate they set. When you get on board, you know what it will cost, except for alcohol. No surprises, no hassles. Since you will not be directly tipping, the staff is free to work at whatever level they choose because they get paid the same amount anyway.
So, what was the service like? Excellent! Of the hundreds of employees on the ship, they saw only a couple who did not smile and say hello every day. Going the extra mile was the rule, not the exception. When you asked a question, the response was not only to answer the question, but to guide you to whatever you needed. It was like these employees were professionals and knew that their primary job was to meet and exceed the traveler's expectations. Are your employees trained and motivated to exceed expectations?
The entire cruise, except for customs at both ends, was a living illustration of how to run a business. The simplicity of Flat Rate pricing combine with professional service is how all businesses should work. This is the way to run a business that will easily grow through word of mouth.
Give Mike Conroy a call to discuss your numbers, your flat rate books, or finding resources to help you bring this type of professionalism to your own business. He always enjoys dispensing the knowledge he has acquired talking to successful business owners around the world.
---
Measure Monthly, Adjust Quarterly
& Achieve Annual Profit Goals
---
On-Line Resources

Toilet Shaped House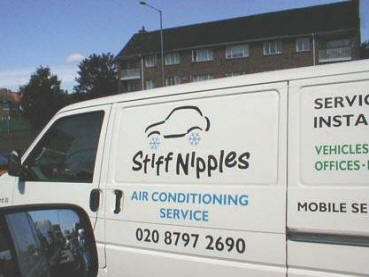 Yes, This is a real company.
100 Years in the Business
Twin brothers retire after almost 50 years each on the job.
130 Year Old Plumbing Business
So, you thought your business has been around for a ling time?