For over a dozen years, NSPG has been providing the tools that allow contractors to increase profits and minimize business hassles. With our simple-to-use-tools, you can make being a business owner what you always wanted to it be - successful, profitable and rewarding.
---
Charge enough to make a profit, because you're worth it. However you must create the environment for it to happen.
Plug a Leak


Recently, Kiplinger's magazine ran an article about what to expect when you need a minor plumbing repair. As expected, the article reflects the usual stereotypes of out of control pricing and unqualified plumbers. Despite the negative tone, there are a few lessons to be learned.
The article starts off by stating that the going rate would be between $50 and $70 per hour. Right away you know that the author has not spoken to a reputable plumbing contractor in a while. Any full service contractor charging in that price range is probably not making any profit from his labor hours. Overhead alone is higher than $70 per hour for most full service plumbing companies. Even if you're quoting only $70 per hour and

making a profit, you probably receive price complaints because most homeowners compare your rate to what they earn per hour.
The Kiplinger's article then goes on to say that the homeowner should get a binding written estimate before work begins. So, he starts the article talking about the hourly rate and then says the contractor must provide a flat rate job price before work begins. We agree with this idea (after all, we sell the best flat rate system on the market), but the presentation in the article implies that any contractor will rip you off if you let him.

The next point in the article is that the homeowner should rely on referrals from friends or on line sources to find a reputable contractor. This is good advice for the consumer and leads to certain things that the contactor can do.
Your clients probably will recommend you to their friends based on the quality of your work and the services you provide. People will seldom recommend a contractor based on a low price alone unless they also perceive the quality of the service to be high. A contractor who arrives in a beat up old truck, in dirty clothes, who leaves a mess behind because he has to do 8 or 10 calls a day to survive on $50 per hour, probably won't earn a referral.
This is where the two points come together. Charging a profitable rate that allows you to provide the high level of service that your clients expect is critical for your business' success. Knowing your cost of providing technician training, clean uniforms, and generally high quality service is critical in assuring that you make the profit you need to stay in business. It also allows you to balance the costs versus the service you provide so you get the referrals you need to keep your business growing.

The article concludes with a section on copper, PVC, and Pex. It implies that the plumbing contractor may intimidate the homeowner into choosing the wrong material for the job. This is a nonsensical idea. Since your prices are based on the cost for installation of each material, the decision on which material to use should be based solely on what is appropriate for the job. Of course, being up on the latest materials and technologies is important. Besides allowing you to offer the appropriate solution, it offers the added benefit of improving your company's image as a high tech solution provider.

This article follows the trend of running down contractors in general. In doing so, it points out some of the ways that you can keep your business growing and profitable. Knowing your costs, providing a high level of service, keeping up on the latest technologies, and earning referral business are some of the lessons that the article brings to mind.
Sometimes we forget the interdependence of the many facets of our businesses. Even an article that seems to be designed to perpetuate negative stereotypes of our industry can be useful in reminding us why we run our businesses the way we do. Know your costs. Present them using Flat Rate to reduce price complaints. Provide good quality service. Earn a reasonable profit. Build customer loyalty.
---
Measure Monthly, Adjust Quarterly
& Achieve Annual Profit Goals
---
On-Line Resources

Some e-mail providers consider any e-mail message from an e-mail address not in your address book as "unwanted" or "spam." To continue receiving your NSPG Newsletter in your inbox, please add plumber@nspgweb.com to your address book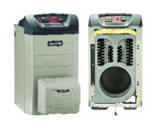 now. For detailed instructions, click here.
Click here for an interesting article on the development of a new boiler line.