For over a dozen years, NSPG has been providing the tools that allow contractors to increase profits and minimize business hassles. With our simple-to-use-tools, you can make being a business owner what you always wanted to it be - successful, profitable and rewarding.
---
Help Them Find You


Over the last few issues we've discussed business organization, learning your profitable prices, and actually implementing them. This month, we'd like to talk a bit about getting the phone to ring. An ongoing investment in advertising is a essential component for your business success.
Advertising should be viewed as a continuing process rather than a single event designed to get more business. The goal is to attract new customers, maintain your current customer base, and creat a positive image of your business as a source of high quality, high value products and services. What most business owners don't know is that keeping track of advertising dollars spent is a critical part of the advertising process.

In a nutshell, advertising helps keep your company's name on potential customers' minds so when services are needed, they know who to call.
To get started, you need to decide what you want to achieve with you advertising dollars. Most businesses hope to achieve three things:
The short term goal of your advertising is to get your message to your audience and get them to act.
Your medium term advertising goal should be to increase customer awareness of your coverage area, and your products and services.
Your long term advertising goal should be to create a business image for the customer that reflects high quality, friendliness, customer service and value.
In order to achieve these goals, you must identify your target customers, and determine the best ways to reach them. Why is this important?


If your target customers are over a certain age, they probably read the local newspaper, so that might be a good way to reach them. Younger, more affluent customers probably use the internet every day, so a web site could be crucial to reaching them. Tailoring your advertising investment to your actual target customer base is critical to maximize your returns. The days of using a Yellow Page ad as your complete advertising plan are long gone.
The easiest way to find your target customer is to use your current customers to determine your target customer base. After each service call you should provide your customers a feedback method of some sort. This can be a postcard, phone call follow up, or an internet form. In addition to gathering information about the performance of your employees and products, you should collect specific information that you can use to target your advertising efforts.
Demographic information and how they initially found your business should always be collected when they first call for service. Information can be gathered about income and home value during the service call. Questions about reading habits and web use can be collected in your after service follow up.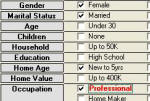 All of this information should be collected and analyzed to identify who your customers are, what they think about your business, and how to reach them. Since they already called your business, you can assume that other people with similar traits will respond to your advertising efforts. If you can determine why your current customers called you, you can develop a business plan building on those things that appeal to your target customer.
Your advertising should focus on the things your business does that appeals most to your target customers. They will only respond to the things that are important to them. Advertising other things is a waste of money.
Once you know who you will be directing your advertising to, you need to determine the most efficient way to reach that audience with the message that is important to them. You should select where you advertise based on market coverage and cost. Since your customers may respond to different types of advertising, you should spread your advertising budget across multiple media outlets. This will allow you to reach more of your target market and build name recognition with the segment of your market that sees your ads in multiple locations.
One popular method of leveraging your business contacts and existing c

ustomer base is to offer discount coupons and referral bonuses. For example, including a discount coupon with each invoice that your current customers can give to a friend, can encourage the word of mouth every business needs to prosper. Be sure to include these discounts when you calculate your breakeven in Numbers Cruncher, and you will still be able to reach your profit targets without changing your flat rate prices.
Advertising is an essential part of your business plan. You should view it as one of your costs of business on a par with equipment and salaries. It should not be an afterthought. You must include your advertising costs in your budget just like any other expense. This way you will avoid cutting your advertising budget when business slows and you need to be advertising the most.
Entering your advertising budget into Numbers Cruncher will allow you to immediately translate the cost into the amount you need to charge per hour to cover it. This eliminates the guesswork, and assures that you have the funds to invest in your advertising budget for the year.

The final step is to evaluate how well your advertising worked and to reallocate your advertising dollars to the most effective areas. This can best be done by asking every person who calls for service what made them call your company. Tracking your ads by description or ad code will allow you to tie your advertising dollars to sales and profit dollars. You must set up a process to collect this information for every job you do.
Advertising should not be considered as a one-shot expenditure to bring in more business today. It should be a part of a long term plan for the growth of your business. This means that you will need to set up a system for collecting and evaluating information about your customers so you can spend your advertising dollars effectively.
You can give Mike Conroy a call to discuss your advertising strategy, your numbers, or your flat rate books even if you do not use NSPG products. He always enjoys dispensing the knowledge he has acquired talking to successful business owners around the world.
---
Measure Monthly, Adjust Quarterly
& Achieve Annual Profit Goals
---
On-Line Resources

Real Hero Electrician
50% Tax Credit for Renewable Energy Projects in Oregon
Home Energy Efficiency Improvement Tax Credit