For over a dozen years, NSPG has been providing the tools that allow contractors to increase profits and minimize business hassles. With our simple-to-use-tools, you can make being a business owner what you always wanted to it be - successful, profitable and rewarding.
---
Christmas and the Trades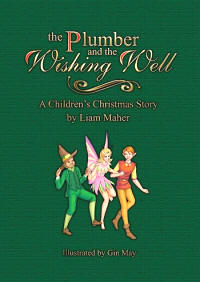 Here's a little e-book that we highlighted last December that may have a lesson for many members of the trades.
The Plumber and the Wishing Well
A plumber doesn't have enough money for his children's Christmas presents. His friend, Tupo, discovers a secret wishing well. The wishing well had broken down so it can't grant them their Christmas wishes. Tupo tells them they need a plumber to repair it.
When the plumber arrives to do the job, the little people offer to pay him lots of money that he could use for his children's presents. He is very good at fixing broken pipes and leaking taps but can he repair a wishing well? If he can, everyone, including his children, are going to get their Christmas presents and have their best Christmas ever.
To reinforce the premise of the book, we found the book listed on one site for a 50% discount.
---

Retirement Plan: Make your contributions to your retirement plan. If you don't have one, set one up and fund it. This will not only provide for your future, but could reduce your tax bill for the year.

Buy It Now: If you need a new piece of equipment or new Price Books, get them now. As a business expense, they can reduce your tax bill, and you get the added benefit of working more efficiently now.

Donate Now: If your business is not a C corporation, any donations you make now will probably reduce this year's tax bill.

Get a Refund: There is a one time chance to get the IRS to give back to you. For this year only, you can apply for a refund of some telephone taxes you paid between 2003 and this year. The IRS has a form (don't they always) that will allow you to determine the amount without digging out your old receipts.

Crunch Your Numbers: You have another year's worth of financial information that you can summarize in Numbers Cruncher. Do a quick update your numbers, and you'll be ready to confidently start the new year knowing that your prices are where you need them to be. If you have the latest version of Numbers Cruncher, now is the time to take advantage of the new flexibility to make the numbers match your business.
---
Measure Monthly, Adjust Quarterly
& Achieve Annual Profit Goals
---
On-Line Resources

State Energy Offices
HVAC Excellence for training and certification.
Air Conditioning and Refrigeration Institute

Some efficiency recommendations
Plumbing Jobs - find employees or find a job.
HVAC Jobs - find employees or find a job.
Electrical Jobs - find employees or find a job.
---
Some e-mail providers consider any e-mail message from an e-mail address not in your address book as "unwanted" or "spam." To continue receiving your NSPG Newsletter in your inbox, please add plumber@nspgweb.com to your address book now. For detailed instructions, click here.
In This Issue
Phone 800 841-8542
---
Freebie of
the Month
The freebie of the month is a web site or product that we feel gives you some-thing worth looking at or using that costs you nothing.
As the end of the year and Christmas approaches we decided to take a break from the freebie theme. Instead we'd like to give you a listing of web sites that may make your charitable giving easier. These sites provide information and ratings for hundreds of charities.
Charity Navigator is a comprehensive site that not only gives you resources to evaluate and choose, but it also gives advice on how to make your giving work the hardest.
Schwab has a site with links to places you can volunteer your services.
Forbes Magazine has their annual look at the 200 largest US charities with evaluations and ratios to help you decide where to give.
Even the IRS has a site that allows you to check the tax status of charities.
Use these sites to help you make a more informed financial decision, but the decision on where and how much you give is up to you.
If you have a favorite Free site, let us know.
nspginfo@nspgweb.com
---
House Magnet

Van Magnet

Business Card Magnet

Magnetic Truck Sign
Coming Sooner