Businesses are like sharks. They have to move forward to survive. If you're not constantly learning new ways to make your business successful, you're being left behind by your competition. The problem is that no one has the time to keep working in and on the business plus learn new ways to succeed without some outside help.
Help is out there; you just have to find it.
You could find a paid consultant or a mentor to help you build your skills and company, but that can take a lot of time and money. Many trade associations can offer the same benefits while lowering your risk and cost. The right association can provide the continuing business education you need to complement your trade skills. Some even offer on-site training for every level of your organization from field tech skills to management best practices.
Many association members find that the ideas they get from other association members alone is worth the cost of membership. In addition to the training and other resources trade associations offer, they can be a primary source for information about government regulations. Sometimes they can even save you money by offering negotiated discounts with vendors who supply the things your business needs.
We understand the benefits of trade association membership from first hand experience. Many NSPG users belong to associations like Nexstar and QSC. We have seen how our clients have grown using the tools and techniques they acquired through these associations. It sometimes seems that just the camaraderie and exchange of ideas between association members drives them to success.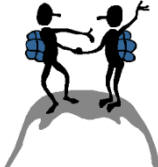 Very few business owners can build a long term successful company without outside help. Sooner or later, everyone reaches a limit to what they can achieve alone. If your company's growth is slowing, if your techs need some specific training, if you need some advice on what software to get to run your business, if the new lead rules or 1099 requirements are a mystery to you, a trade association may be able to help.
If you already belong to a trade association, make sure you're taking advantage of all they have to offer. Whether you already belong or not, start by visiting the association's website. Give them a call and discuss what they have to offer both on a national level and locally. Attend a seminar or meeting. It's easy to get started. Find one that fits your needs, and get going.
You can find links to both Nexstar and QSC in the Associations section of this newsletter below.
---
Click Here to Crunch your Numbers Today!
---
Quick Tech Tip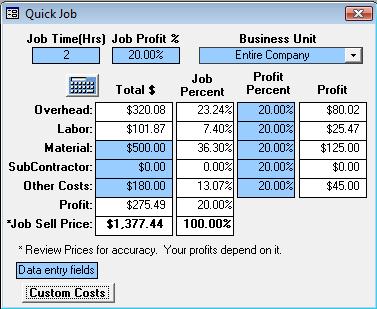 The Numbers Cruncher Quick Job form is a fill in the blank form that allows you to quickly quote any job based on just a few pieces of information. This is a simplified live version of the Task Grid built into NSPG Flat Rate Price Books that has become so popular with our users.
In Numbers Cruncher, you can open the form by hitting ctrl - Q.
Profit%
In addition to allowing you to quickly calculate a job, you can customize the Profit% for your Overhead, Labor, Material, and Other costs.
Custom Costs
You can override the Numbers Cruncher Overhead and Labor values to calculate a job that requires a special pricing structure. This will allow you to quickly create a lower job price as a loss leader, or a higher job price for a high skill or difficulty job.
Division Pricing
You can also quickly calculate jobs based on the individual division overhead and labor costs calculated by Numbers Cruncher.
Stand Alone
The final feature is that you can turn Numbers Cruncher default mode into a job calculator by making a selection on the Configuration tab of the Setup form. This will allow you to have employees do a quick calculation without revealing all of your business details.
Give the new Quick Job form a try, and remember that you must be sure that the numbers make sense for your business by reviewing them on a monthly basis.
---
Special Offer: Free Numbers Cruncher Review with Sales Goals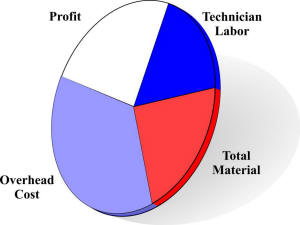 Most of our clients find NSPG while looking for Flat Rate Price books for their Plumbing, Electrical, or HVAC company. We always encourage potential clients to Crunch their Numbers before they even consider printing a Flat Rate Book. Many of our most successful Numbers Cruncher users also take advantage of our Numbers Cruncher Review service.
We decided to bundle our Numbers Cruncher software with a free Numbers Cruncher Review session to encourage more users to take advantage of our expertise in interpreting and implementing their numbers. Here's how it works.
Our Numbers Cruncher software allows you to quickly and easily set and monitor your breakeven, productivity, and profitability. With just a few clicks of your mouse and about an hour of your time, a Numbers Cruncher Review can help you fine tune your operation, and give you confidence that your numbers will really work for your business.
The free Numbers Cruncher Review includes a personalized business assessment to review and adjust your Numbers Cruncher Data, set up your new budget and selling prices along with sales and productivity targets. You will receive written recommendations based on your actual numbers for adjustments to your sales and spending goals for the coming year.
We will then follow up with a phone consultation to discuss our recommendations with you to help you establish how to implement any changes you decide to make to improve your operations.
This is a limited time web store only offer, so don't delay. Click here, and save some money now.
---
Deal with confrontational People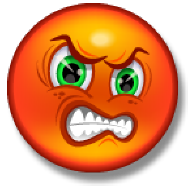 Everyone has run into a situation with someone who is unhappy and wants you to know it. Whether it is a customer, a vendor, an employee, or a spouse, there are a few techniques that can help defuse the situation and help resolve the problem.
When confronted with a combative person, many people will react in one of two ways: either by reflecting back the anger they are receiving, or by trying to appease the angry person by giving them what they want. There are techniques that can help drain the anger from the situation, and allow you to reach a solution that satisfies both parties.
When confronted by any angry person, the first step to resolution is to listen to what they have to say. This not only allows them to vent some of their anger, but it also allows you to judge exactly what they feel is the problem and what they really want. This can help you formulate an appropriate response. While you are having the conversation, mirror the movements and body language of the angry person. Don't reflect back the belligerence, but try to show that you care about and relate to the way they are feeling.
Once you have gotten the conversation onto to a more reasonable footing, you can slowly lead the conversation to a conclusion. Speak of their anger in the past tense, and express your desire to cooperate in finding a solution. Once you have reduced the level of vitriol, it becomes much easier to reach a solution that both parties can live with.
Remember that a customer who has had a problem successfully resolved often becomes the most loyal customer. Here's an article with a bit more detail about these techniques.
---
Special Offer

Call 800 841-8542 today to learn about our affordable, no interest, payment plans for NSPG software.

What we think, or what we know, or what we believe is, in the end, of little consequence. The only consequence is what we do. John Ruskin

When two men in business always agree, one of them is unnecessary. William Wrigley Jr.

I like long walks, especially when they are taken by people who annoy me. Noel Coward

When I do good, I feel good; when I do bad, I feel bad, and that is my religion. Abraham Lincoln

Do not be fooled into believing that because a man is rich he is necessarily smart. There is ample proof to the contrary.
Julius Rosenwald
---
The Economy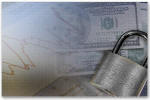 The Federal Reserve increased their growth projection for 2011 to 3.4 to 3.9%. They expect higher than projected growth for the short term, but the next two years are not projected to be as good. Consumer confidence reached a three year high at 70.4. A value above 90 usually reflects a strong and growing economy.
USA Today reports that tax bills paid by Americans in 2009 were the lowest since 1950. Since taxes were cut again last year, they will probably be at 60 year lows again in 2010.
We are seeing service industry materials price increases over the next few months in the 2% to 9% range.
---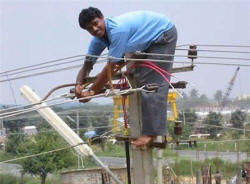 Interesting Online Items

Clean Energy Job Trends
Storing Summer Heat for Winter
Global Warming Makes US Winter Colder?