Our advice to clients as they set up their sales process and their Flat Rate Books always includes providing choices for the customer. At its simplest, this concept offers Good, Better, Best solutions to common problems. This is easy to set up, and easy to understand for the customer and the technician. This type of sales presentation frames the choices available to the customer, and can significantly increase close rates.
In the recent March edition of PM Magazine, Jack Tester has an article that explains and builds upon this concept. The article highlights the customers dilemma when it comes to purchasing an item, in this case a water heater, they may only buy once a decade. Mr. Tester's answer is to offer multiple solutions to the homeowner's problem ranging from a low cost replacement item to the top of the line item with complete repiping and 20 year warranty.
This advice mirrors the advice we give to our clients. Present a range of solutions at different price points so the customer can get a bit of orientation on the range of costs and technologies available. Offering a range of water heater solutions that runs from a standard warranty 40 gallon to a tankless with extended warranty can give your customers the context they need to make the correct purchase decision.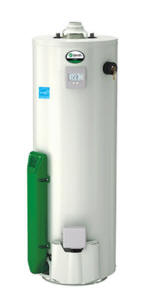 This technique can often reduce buyer's remorse caused by price concerns because they feel more in control of the situation. The range of solutions you present can help them to become more comfortable with the prices and technologies available before they make the purchase decision.
Some companies try to accomplish this same effect by listing up to six columns of pricing in their Flat Rate books. We have found that his just overloads the customer with numbers. It does not help explain the true range of options available in an easy to digest way.
We have found that the best results are often achieved by using just one or two price columns combined with a range of quality and warranty options. This format is less confusing for the customer, and can improve close rates significantly.
So get out your March copy of PM Mag or go to the PM web site, and read the entire article. Then, take a look at your sales process and Flat Rate books to see if you need to make some changes. Adding a few choices while simplifying your pricing could make a big difference in your close rates and bottom line.
---
Click Here to Crunch your Numbers Today!
---
Quick Tech Tip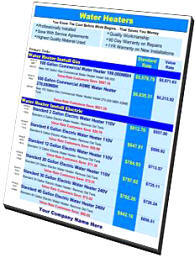 It's easy to create a range of solutions in your Flat Rate Price Books with NSPG software. Let's say you want to set up a special group to improve your sales process for water heater replacements. The idea is to set up your books to automatically print the range of options together on a single page. Here's how to do it.
Create a Category with an appropriate Title like "Water Heater Solutions" for your new sales group of tasks. You can also customize your bullet points and sales text to highlight the benefits of solutions you provide.

Choose the first Task that you want to use in this group.

Use the Copy function to create a new copy of the Task, and update the Task Number and Name so it fits your new "Water Heater Solutions" group.

Repeat for each Task you want to add to the new group.

Click the button to Recalculate all of your prices.
You're ready to print your new "Water Heater Solutions" section of your Price Book. You can repeat this process for any other product or service you sell until you have a complete custom sales solution for your technicians to use in the field.
---

Special Offer: Free Printed Flat Rate Price Book
You can meet NSPG's Mike Conroy at the QSC Power Meeting on April 7 - 9, 2011 at the Opryland Hotel in Nashville, TN. You may still be able to register to attend, so contact visit the QSC website to find out.
While Mike is at the Power Meeting, he will be offering a free printed Flat Rate Price Book to anyone who orders our Flat Rate Software (National Standard Price Guide) during and shortly after the Power Meeting.
QSC Power Meeting Special Offer
Get your first Custom Printed Price Book for Free direct from NSPG with your purchase of NSPG Flat Rate Software.
We make it easy to Rise Above the Competition.
Here's how easy Flat Rate can be:
Get your NSPG Flat Rate software.
Enter your information and customize your books any way you want.
With a click of your mouse, send us your Flat Rate Book information.
We will print and bind your Flat Rate books with our high speed color laser publishing system.
That's all there is to it. You spend no time printing and binding your books. You spend no time hassling with your local print shop trying to get the quality you need.
At NSPG, We Make It Easy to get your own custom printed Flat Rate Price Book.
Just place your software order at the show or via our web store at nspgweb.com before April 19,2011. You will automatically receive credit for your free custom Flat Rate Price Book when you mention the QSC Power Meeting when you order.
This is a limited time web store only offer, so don't delay. Click here, and save some money now.
---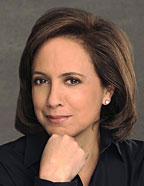 Another successful Nexstar Network Owners' Spotlight Series event wrapped up recently in New Jersey. The event, dedicated to connecting Wall Street to Main Street, was attended by a contingent of 200 enthusiastic Nexstar members.
Wall Street business reporter Betsy Stark kicked things off by reminding all in attendance that small business owners have the power to prevail, come what may. She said, "It is in your DNA as entrepreneurs - and Americans - to find a way".
Dr. Dileep Rao, advisor, author, and speaker on business development, offered advice that improved business growth lies in identifying what people need, finding a way to deliver it conveniently, and doing it with your cash flow in control.
Boaz Rauchwerger, a personal and business coach, believes the root of success is a positive attitude and a focus on the basics. He repeatedly asked the question, "How's business?" to which he encouraged all to positively reply, "Unbelievable!" whether they believed it at that moment or not. His small business training centers around a series of questions and answers that he says will positively build business by getting to the heart of the matter inside and outside the shop.
Nexstar Network is a business-development and best practices organization delivering comprehensive business training, systems and support to independent home service plumbing, heating and air conditioning professionals. For more information, call Lisa Schardt or Bryan Martin at 888.240.STAR or email at info@nexstarnetwork.com.
---
Special Offer

Call 800 841-8542 today to learn about our affordable, no interest, payment plans for NSPG software.

You can fool some of the people all of the time, and all of the people some of the time, but you can not fool all of the people all of the time. Abraham Lincoln

You can fool too many of the people too much of the time.
James Thurber

The first principle is that you must not fool yourself - and you are the easiest person to fool. Richard Feynman

He who asks is a fool for five minutes, but he who does not ask remains a fool forever. Chinese Proverb

Do not be fooled into believing that because a man is rich he is necessarily smart. There is ample proof to the contrary.
Julius Rosenwald

Better to remain silent and be thought a fool than to speak out and remove all doubt. Abraham Lincoln
---
The Economy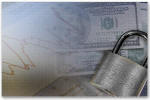 ADP reports that about 201,000 private sector jobs were added in March. This is considered moderately good news. This number of new jobs is higher than most months during the previous ten years of anemic economic growth. The response from the Federal Reserve is to continue the fight against potential inflation rather than trying to stimulate job growth.
We are seeing service industry materials price increases over the next few months from 5% to 14%. How much have you raised your rates this year?
---
Toilet Protest
Copper Thief Applies for a Job
Free On Line Storage and Music Player