For over a dozen years, NSPG has been providing the tools that allow contractors to increase profits and minimize business hassles. With our simple-to-use-tools, you can make being a business owner what you always wanted to it be - successful, profitable and rewarding.
---
New Competition


During quarterly Phone Review sessions with Numbers Cruncher users, we have been noticing more and more price competition issues. These pressures have lead to lower close rates for some companies which require new breakeven calculations and new Printed Price Books. The reason for this new business environment may be unclear to many business owners.
The obvious answers are in the news every day. The housing "bubble" is bursting, sub-prime loans are in default, and record numbers of foreclosures are happening. This bad news can make homeowners and businesses reluctant to commit to work at any price. Financial uncertainty can be a sales killer for even the best run service companies.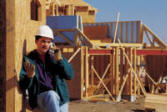 On top of the expected increase in price resistance, there is another factor at work here. Over the last decade, new construction has boomed. Cheap credit allowed home buyers and businesses to make purchases at a record pace. This in turn created demand for companies that specialize in New Construction. These companies had a ready supply of jobs to keep them busy, and kept them out of the Service business.
Multiple, small repair jobs are unattractive to these companies during boom times. They see service as a high cost and high effort business compared to new construction. It's much easier to send your employees to a job site where they work eight hours a day for five or six days a week than to find two or three service calls every day. But, the boom times are over in

many places for now. Not only are the New Construction companies feeling the pinch, but so are many Service companies.
As the New Construction companies search for new revenue and to keep their people busy, they inevitably move into Service work. The problem for them and for existing Service companies is that they often don't know their breakeven in the Service world. Their hourly labor and overhead cost calculations are based on close to 100% productivity. In the Service world, 50% productivity is closer to reality. Because their numbers are incorrect, they can lose money every day.
This is bad for them, but it is also bad for the Service businesses that know their own numbers. The formerly New Construction only company that is now in the Service business is a new low price competitor. Unlike your typical money losing competitor, they may have nice trucks and a staff to provide the higher level of service that your customers expect. They probably won't know they're losing money every day for several months or more because they will be busy taking over your customer base with their money losing prices.
So, what can you do?
Crunch your own Numbers regularly to account for any changes in your business. You must be confident that your Selling Price is correct.

If you feel that there are some jobs that you are losing based on a trip charge, build the travel time into your overhead cost, and eliminate the trip charge.

If you have specific Tasks that you need to be more price competitive on, you can build a "loss leader" into your pricing in Numbers Cruncher.

Once you have your numbers up to date, print new Price Books. Clean, crisp, full color laser printed books can help make the sale.

Set up a checklist for use on every service call. Offer free inspections that can highlight possible areas (like washing machine hoses, and aging water heaters) in need of repair or replacement . Offer to fix it before in causes any damage.

Work your existing customers. Send out a postcard or distribute a door hanger with a "Special Offer" that will get them to call you.

Your field personnel must understand that Sales is a critical part of their job. They need the training and skills to be able to communicate the value of your services to your potential customers.

If you need help with your Numbers Cruncher review, give us a call. Existing Numbers Cruncher users can take advantage of our package pricing on our complete quarterly review package which includes a Numbers review, Flat Rate Book printing, and creation of an ongoing Pricing and Sales plan.

If you're a company making the change from New Construction to Service work, Crunch your Numbers to include the higher costs associated with Service. Do this on a spreadsheet or call us and we can get Numbers Cruncher to you overnight.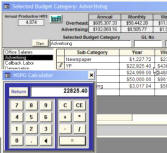 The bottom line is that the business is changing every day. You need to be aware of the changes and make adjustments to meet the new challenges. We all have to remember that a problem at your competitors can cause problems for us. A monthly review and quarterly adjustment of your numbers can head off some unpleasant surprises.
---
Measure Monthly, Adjust Quarterly
& Achieve Annual Profit Goals
---
On-Line Resources

How Air Conditioners Work
Explanation of AC that your customers can understand.
R-22 Phaseout Information
Schedule and explanations from the EPA.
Back to the Future

Using huge blocks of ice to cool a NYC skyscraper.
Back to the Future II
Using ice to cool residential buildings.
Pulse Power
Electrical pulses into cooling tower water lines eliminate the need for chemicals and reducing operating costs significantly.
In This Issue
Phone 800 841-8542
---
The freebie of the month is a web site or product that we feel gives you some-thing worth looking at or using that costs you nothing.
This month's freebie is not really a free service, but it is valuable advice. As we all know, Windows Vista was released by Microsoft earlier this year. In the past, a new Windows release would be a reason to upgrade right away, but Vista is different. The hardware requirements and security changes make Vista incompatible with most older hardware and software.
For many companies, the best choice is to wait to upgrade. While you're waiting, there are a few things you should do to improve the security of your current computers and extend their life as long as possible.
ComputerWorld has an article on line that will help you do just that. They claim that it is possible to extend the life of Windows XP until 2014! Most of their advice involves improving the security and performance of your current system, and are all relatively easy to implement. Perhaps the most important information is their advice on the regular maintenance we all tend to neglect. Links are provided to free tools for improving the security, performance, and appearance of your XP machine.
They also point out that Microsoft will support XP for another 7 years, and will even be releasing an update to XP in the near future.
Even if you don't expect to run your current computers for another 7 years, the advice and resources in this article can significantly improve your systems until you make the move to Vista.
If you have a favorite Free site, let us know.
nspginfo@nspgweb.com
---
Numbers Cruncher
Quarterly Review
It is critical for any business to have their prices set at a profitable level. With the rapidly changing market conditions we have today, it is more important than ever to review your costs and be sure you're making a profit every day.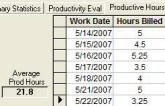 Click Me
With Numbers Cruncher, you can quickly review your overhead and labor costs to be sure that what you charge accurately reflects you business. You should pay particular attention to your field employees' productivity. Small changes in hours sold can make major changes in your breakeven and profits.
Take a look at our article in the May issue for a refresher on the built in Productivity estimator in Numbers Cruncher.
If you need a little help with your reviews and planning, give us a call. Our quarterly review plan can make profitable pricing an easy to implement part of your business operations.
---