The Future Is Almost Here
As hard as it may be to believe, your technology plans may be just like Microsoft's. This could yield both great benefits and headaches for your business. There are a couple of things you should do today to deal with the changing technology landscape.
Microsoft recently released the free preview of their next version of Microsoft Office which is scheduled for release early next year. There are two factors in this release that will probably affect every business in America. The Cloud becomes the central focus for much of the product, and the way you pay for and use the software is about to change in a big way.
The "Cloud"
Traditionally, Office software comes on a purchased DVD with a license for one computer. Installation can take an hour, and consume a large portion of your hard drive. For the new version, you'll still be able to buy a DVD copy but for most people, the new version will install directly from Microsoft's servers in the Cloud. The installation will be quicker and simpler than ever before.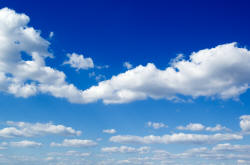 The bigger Cloud based change will be the integration of Microsoft's SkyDrive Cloud storage into Office. The default location for saved files will be on Microsoft's servers. This will allow you complete access to you files from any internet connected computer. You'll be able to open a document on one computer, and when you start the same Office application on another computer, you will return to the same location in the document to continue editing.
The downside of this Cloud focus is that the Cloud is not always there. As we learned in June, even the most reliable servers go down - sometimes for hours or days. Amazon runs what is considered the gold standard for reliability and performance in the Cloud. The storms in early June took their servers down for many hours. The NSPG servers were down for about eight hours that week, too. Our users could not download free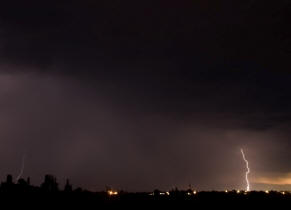 software updates or send us their data files for most of a business day.
If your applications or documents are exclusively stored in the Cloud, they would be unavailable until the servers come back up or your internet connection returns. For a Word document or spreadsheet, this is only an inconvenience. But, if you have software exclusively in the Cloud that you rely on to run your business, you must have a plan for how to deal with the outages that will almost certainly occur. Your entire team needs to keep up to date on a backup plan for running the business like it's 1999.
The New Payment Model
It is expected that Microsoft will combine their new software distribution model with a subscription payment system. Your software will become a service like your cable bill or your phone bill. Each month you'll pay a fee to keep your software running. No pricing has been announced, but recent speculation puts the price in the $20 to $50 per month range. For that fee, you will have access to Office software on multiple computers.
The upside of this model is that you will always have access to the latest version of Office from multiple computers. If you regularly update your Microsoft Office version, this is probably a good option for you. If you tend to only update your software when you absolutely have to, this model could be much more expensive over time.
From our standpoint here at NSPG, the real issue is the Cloud. We are not ready to trust the Cloud for mission critical data yet. We have released software updates from the Cloud for many years, and we automatically back up all of our critical files to encrypted online storage in the cloud. We feel that a hybrid of local applications and Cloud storage is the right solution for most businesses today.
If you don't have your critical files securely backed up off site, get it done now. If you choose to fully embrace the Cloud now, be sure to have a backup plan ready to be implemented to keep your business running for when the Cloud is not available.

"Be comforted, dear soul! There is always light behind the clouds. ". Louisa May Alcott
---


Give Mike Conroy a call at 800-841-8542. He can quickly walk you through the business basics that you need to help make your company more consistently profitable, and increase the value of your business. Mike has years of experience helping companies set their own profitable prices, respond to price complaints, track performance, implement and fine tune Flat Rate systems, and improve profitability.
Take advantage of Mike's experience working with hundreds of companies like yours to help you achieve your own business success.

---
Click Here to Crunch your Numbers Today!
---
Nexstar Legacy Foundation Announces 2012-2013 Scholarships
The Nexstar Legacy Foundation has announced their first round of 2012-2013 scholarship award winners. $34,500 was recently awarded to sixteen students, with scholarships ranging from $1,000 - $6,000.

The award winners are pursuing education in preparation for careers within the plumbing, HVAC and electrical industry. "The mission of the Nexstar Legacy Foundation is to give back to an industry that has been so good to us," said Foundation President Bill Raymond of Frank & Lindy Plumbing & Heating Service Company of Peekskill, New York.

Each year, scholarships are awarded to students based upon merit, chosen by a scholarship selection committee comprised of industry leaders both inside, and outside of Nexstar Network.

The scholarship program is the major gifting program of the Nexstar Legacy Foundation. The largest annual award is the Frank Blau, Jr. Award of $6,000, awarded to a student who is enrolled in a four-year program with the intent of working in the industry.

Foundation VP and Scholarship Chair Julie Wieman said, "We want to inspire people to discover the prestige, earning power and stability of careers in the plumbing, HVAC and electrical industries by being the leading resource for career information, training, and financial aid," Wieman is President of MacGregor Plumbing & Heating in Harbor Springs, MI.

86 high school, college students and industry professionals applied for this year's scholarships that were funded through the Legacy Foundation by individual and company donations. This fall, an additional $7,500 will be awarded to students enrolled in technical school/apprentice programs, bringing this year's total to $42,000 - more than double than last year.

For more information on the Nexstar Legacy Foundation or to apply for a scholarship (open through August 31, 2012), go to www.nexstarfoundation.org or contact Renee Cardarelle at (651) 789-8518 or info@nexstarfoundation.org

Award Winners

Frank J. Blau Jr. Honorary Scholarship $6000
Sarah Masters (Allendale, NJ)
University of Delaware, Mechanical Engineering

George Brazil Honorary Scholarship $5000
Cody Cannon (Morris, MN)
Minnesota West Technical College, Electrical

Barnett Honorary Scholarship $5000 Benjamin Wineinger (Reading, MI)
Jackson Community College, Electrical

Jill Pomroy Reed Women in Business Honorary Scholarship $2000
Colleen Koenig (Centennial, CO)
University of Portland, Marketing

John MacGregor Scholarship $2000
Devon Castro (Albuquerque, NM)
New Mexico Tech, Electrical

John MacGregor Scholarship $1500
Andrew Ballantyne (South China, ME) Southern Maine Community College, Electrical

John MacGregor Scholarship $1000
Travis Callahan (Manassas, VA)
Fairfax County Adult Education Apprentice Program, Plumbing

John MacGregor Scholarship $1000
Andrew Genevro (Brockport, PA) Pennsylvania College of Technology, Electrical

John MacGregor Scholarship $1000
Victoria Weems (Atlanta, GA)
Interactive College of Technology, HVAC

Nexstar Legacy Foundation Management Scholarship $2000
Logan Messmer (Jasper, IN)
Purdue University, Construction Management Engineering and Mechanical Engineering

Nexstar Legacy Foundation Management Scholarship $1000
Graham Thurber (Topeka, KS)
Washburn University, Business Administration

Nexstar Legacy Foundation Management Scholarship $1000
Tim McGuire (Long Lake, MN)
University of Minnesota Duluth, Accounting

Nexstar Legacy Foundation Management Scholarship $1000
Stephanie Stevens (Wylie, TX)
University of Texas at Austin, Accounting

Nexstar Legacy Foundation Technician Scholarship $3000
Scott Steier (Edmonton, Alberta, Canada) Northern Alberta Institute of Technology, HVAC

Nexstar Legacy Foundation Technician Scholarship $1000
Rylan Easter (Pateros, WA)
Oklahoma State University Institute of Technology, HVAC

Nexstar Legacy Foundation Technician Scholarship $1,000
Evan Dukart (Wibaux, MT)
North Dakota State College of Science, Electrical
---
NexstarŽ is looking forward to seeing you at the upcoming PHCC National tradeshow:
September 21 - 24, 2012 - Hilton Hotel - Minneapolis, MN
---
NSPG Flat Rate User on Ask This Old House
Long time NSPG Flat Rate user Scott Caron works with a homeowner to add a ceiling fan in a stifling room with a vaulted ceiling on Ask This Old House.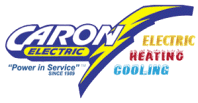 ---
This Is Kite Island NJ (video)
---
Special Offer

Call 800 841-8542 today to learn about our affordable, no interest, payment plans for NSPG software.

A sense of humor is part of the art of leadership, of getting along with people, of getting things done. Dwight D. Eisenhower

People who reach the top of the tree are only those who haven't got the qualifications to detain them at the bottom. Peter Ustinov

The smaller the mind the greater the conceit. Aesop

I don't know the key to success, but the key to failure is trying to please everybody. Bill Cosby

I told my psychiatrist that everyone hates me. He said I was being ridiculous - everyone hasn't met me yet. Rodney Dangerfield
---
The Economy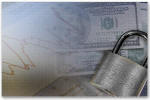 The US economy grew by 1.5% in the second quarter of 2012, and is projected to grow by 2.2% in the second half. While this is better than the negative growth fueled by government cutbacks in Europe, there are no apparent prospects for increased growth until after the election.
Job growth for 2012 is expected to be 1.8 million - the same as last year. This is better than the average job growth over the last 15 years, but not enough to spur the economy.
---
Self Employed Taxes Video
High Efficiency Plumbing Course