Since 1992

, NSPG has been providing the tools that allow contractors to increase profits and minimize business hassles. With our simple-to-use-tools, you can make being a business owner what you always wanted to it be - successful, profitable and rewarding.
---
Will loss Leaders Work for You?


Software like our Numbers Cruncher and Price Guide Flat Rate make creating, selling, and paying for loss leaders easy. But, for some businesses, the concept of a loss leader is difficult to grasp. Reducing your price on targeted items seems somehow unfair for some business managers when in reality it is no different than your other forms of advertising and marketing.
A recent press release from a Chicago area plumber illustrates the concept behind loss leaders without ever mentioning them. They speak about saving on costs, efficiencies, and helping their customers. And, by the way, they offer a full range of plumbing services with their usual excellent quality at their regular price.
They use a common loss leader like a $99 Drain Rooter Service as a low cost means of earning new customers. They perform the work professionally, and they earn a reliable customer for other work in the future. Both the company and the customer win. The company earns a new customer, and the customer can "try out" your services at a good price.
Most of the reluctance to use loss leaders comes from the cost. If you structure your prices correctly, you will make money on loss leaders over the course of the year. It is important that you plan for your loss leaders just as you plan for your other advertising costs. Whether you use NSPG products to do it, or you create your own spreadsheet, as long as you plan accurately, loss leaders will work for you.
- - - - - - -
Give Mike Conroy a call to discuss your loss leaders, business, your numbers, your performance benchmarks, or your flat rate books. Take advantage of his experience working with hundreds of companies like yours to help you achieve your own business success.
Measure Monthly, Adjust Quarterly
& Achieve Your Annual Profit Goals
---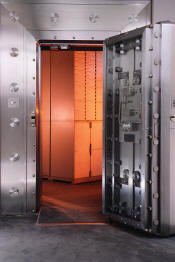 Protect your Most Valuable Assets
What are the most valuable assets that your company has? Is it your employees? Your technical expertise? Your equipment? Your reputation? Your financial information? Your customer list?
Since these things are valuable to any business, they need to be protected. We do this by competitive pay and benefit packages to keep our key employees. Ongoing training to keep our skills up to date. Security and inventory procedures to protect our equipment. Operating with the highest ethical standards to protect our reputation. Restricting access to critical company information, and backing up on a regular basis to protect our business data.
This last step is where almost all businesses fail. Most small businesses never get around to systematically backing up their critical business data. Those that do often rely on copying files onto another drive or computer in the same location. While some backup is better than none, a fire or theft could be catastrophic. All of you financial, customer, and business related information could be lost.
Try to picture running your business with no client database or accounting software! How would you do your payroll or pay your taxes?
The best backup scheme includes automated backup to local storage plus automated online backup. This protects your business from local single computer or server drive failures, and it protects you from the fire/theft scenario.
The key to making it work is to automate the entire backup process. No manual copying on Friday afternoons that rarely seem to get done. No frantic backups after a power outage. Get applications that you set up once, and forget.
Many external hard drives come with passable backup applications included, so you may not have to buy or download anything. You just plug in the drive, run the backup application, and tell it what to copy and when. You should take a few minutes, and locate where your key applications store their data files, and be sure to include those directories are included in any backup.
Once you have the files selected, you need to set how often they will be backed up. You should set this time period based on your company. If you enter many transactions every day, you should probably back up at least every day. If you tend to enter information in batches, once a week is probably good enough. The idea is that you are setting the maximum amount of data you will lose by how often you back up.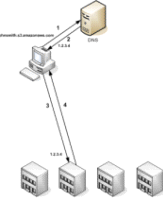 Online backup should offer you the ultimate in security. Your information is saved somewhere else, so anything that happens in your office will not affect your data. Most quality online sites have their own backup schemes, so your data may in fact be backed up on multiple drives in multiple data centers.
Online backup these days seems to be dominated by two main players - Mozy and Carbonite. Both services cost about $50/year for unlimited storage. An alternative backup location that many people may not be familiar with is the Amazon Simple Storage Service(S3). S3 is a storage/development service using Amazon owned servers that many banks and financial companies use because of its security and reliability. S3 is the backup solution that we use for our business records.
There are a number of front ends that make backing up to S3 easy. One such product, JungleDisk, offers an simple way to use S3 or RackSpace servers to securely store your data. Jungle Disk costs $2.00/month for the software that can be used on as many computers as you have. S3 has a payment scale based on the amount stored and amount transferred each month. So, if you're only backing up a few files, it can cost very little. Our first bill from S3 was $0.97 for a month of storage. Multiple gigabytes of backup files will probably cost around $5 per month for transfer and storage.
The unique benefit of a JungleDisk type of solution is that you have control of the costs for the software no matter how many computers you want to back up. As your company grows, your software cost remains $2.00/month. You can even use JungleDisk from home at no extra cost. You just pay for the amount of storage you use.
In addition to the built in backup functionality on JungleDisk, your online storage is visible on your computer as a network hard drive. This means you can move files onto JungleDisk by dragging and dropping. You can also use just about any backup software that can save to a network drive. So, you can use the same software to do your local backup and your online backup.
The added benefit of this online network drive is that you can access any file on JungleDisk from just about any computer. If you work in multiple offices, work at home sometimes, or travel with a notebook computer, you can securely access your data using JungleDisk. You won't be stranded without your information again.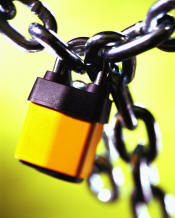 Mozy, Carbonite, and JungleDisk/S3 all use powerful encryption to protect your information as it moves from your computer to theirs, and the data is encrypted on their servers. As long as you create your own password when you set up the services, even the service providers cannot read your data. This means you need to remember the password that you set up, but your data is safe because of the strong encryption schemes they use.
Setting up online backup services is similar to setting up your local backup. Install the software, choose what to backup, when to backup, and where to backup to. Online backups are encrypted on your own computer, and then transmitted to the online storage site. Some of the sites then re-encrypt the data a second time for additional security. Your data may be more secure on line than on a backup disk in your office.
The bottom line on backup is that you need to do it. Whether you combine online and offline for maximum security, or just use one solution, it will be useless if you don't set it up and actually use it. Keeping you valuable business information safe is not expensive, and it is not difficult. Take a good look at the software and services we mentioned, and decide which one meets your needs. Then get it done today.
---
---
Interesting Online Items


Onions to Energy
Band of ballcocks beat off stiff competition
"So while it isn't the greatest right now, I am surviving."
---

Call 800 841-8542 today
to learn about our
easy, subscription plans for NSPG software products.