As another summer comes to an end, here's an excerpt from the History Channel's description of the origins of the Labor Day holiday.
Labor Day, an annual celebration of workers and their achievements, originated during one of American labor history's most dismal chapters. In the late 1800s, at the height of the Industrial Revolution in the United States, the average American worked 12-hour days and seven-day weeks in order to eke out a basic living.

Despite restrictions in some states, children as young as 5 or 6 toiled in mills, factories and mines across the country, earning a fraction of their adult counterparts' wages. People of all ages, particularly the very poor and recent immigrants, often faced extremely unsafe working conditions, with insufficient access to fresh air, sanitary facilities and breaks.
As manufacturing increasingly supplanted agriculture as the wellspring of American employment, labor unions, which had first appeared in the late 18th century, grew more prominent and vocal. They began organizing strikes and rallies to protest poor conditions and compel employers to renegotiate hours and pay. Many of these events turned violent during this period, including the infamous Haymarket Riot of 1886, in which several Chicago policemen and workers were killed.
Others gave rise to longstanding traditions: On September 5, 1882, 10,000 workers took unpaid time off to march from City Hall to Union Square in New York City, holding the first Labor Day parade in U.S. history. The idea of a "workingmen's holiday," celebrated on the first Monday in September, caught on in other industrial centers across the country, and many states passed legislation recognizing it.
Congress would not legalize the holiday until 12 years later, when a watershed moment in American labor history brought workers' rights squarely into the public's view. On May 11, 1894, employees of the Pullman Palace Car Company in Chicago went on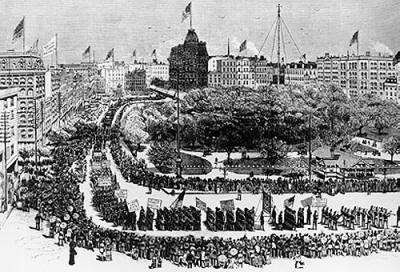 strike to protest wage cuts and the firing of union representatives. On June 26, the American Railroad Union, led by Eugene V. Debs, called for a boycott of all Pullman railway cars, crippling railroad traffic nationwide. To break the strike, the federal government dispatched troops to Chicago, unleashing a wave of riots that resulted in the deaths of more than a dozen workers.
In the wake of this massive unrest and in an attempt to repair ties with American workers, Congress passed an act making Labor Day a legal holiday in the District of Columbia and the territories.
Video from the History Channel on Labor Day and related topics.
---


Give Mike Conroy a call. He can quickly walk you through the business basics that you need to help make your company more consistently profitable. Mike has years of experience helping companies set their own profitable prices, track performance, implement and fine tune Flat Rate systems, and improve profitability.
Take advantage of Mike's experience working with hundreds of companies like yours to help you achieve your own business success.

---
Click Here to Crunch your Numbers Today!
---

If you occasionally need a banner for use at home and remodel shows or community activities, you can find very inexpensive banners at sites like Shindigz.com. The banners are consumer grade vinyl, so they should be good for occasional use.
The order process is relatively simple. You can select from their themes and graphics which are mainly consumer party related, or you can upload your own graphic and enter your own text. Be sure that the size of you graphic is large enough to avoid blurring when printed at banner size.
Their regular price for an 18" x 54" banner is 14.99 plus $7.95 for shipping. Until September 3, you can use coupon code VSEH7H to get your banner for $7.96 delivered.
---
NSPG News
Special Offer: Free Numbers Cruncher Review with Sales Goals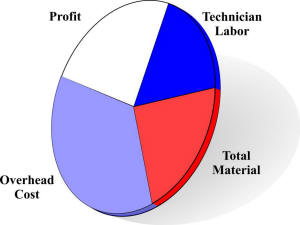 Most of our clients find NSPG while looking for Flat Rate Price books for their Plumbing, Electrical, or HVAC company. We always encourage potential clients to Crunch their Numbers before they even consider printing a Flat Rate Book. Many of our most successful Numbers Cruncher users also take advantage of our Numbers Cruncher Review service.
We decided to bundle our Numbers Cruncher software with a free Numbers Cruncher Review session to encourage more users to take advantage of our expertise in interpreting and implementing their numbers. Here's how it works.
Our Numbers Cruncher software allows you to quickly and easily set and monitor your breakeven, productivity, and profitability. With just a few clicks of your mouse and about an hour of your time, a Numbers Cruncher Review can help you fine tune your operation, and give you confidence that your numbers will really work for your business.
The free Numbers Cruncher Review includes a personalized business assessment to review and adjust your Numbers Cruncher Data, set up your new budget and selling prices along with sales and productivity targets. You will receive written recommendations based on your actual numbers for adjustments to your sales and spending goals for the coming year.
We will then follow up with a phone consultation to discuss our recommendations with you to help you establish how to implement any changes you decide to make to improve your operations.
This is a limited time web store only offer, so don't delay. Click here, and save some money now.
---
Special Offer

Call 800 841-8542 today to learn about our affordable, no interest, payment plans for NSPG software.

If all the cars in the United States were placed end to end, it would probably be Labor Day Weekend. Doug Larson

When it is not necessary to make a decision, it is necessary not to make a decision. Lord Falkland

The right to be heard does not automatically include the right to be taken seriously. Hubert H. Humphrey

There is no reciprocity. Men love women, women love children, children love hamsters. Alice Thomas Ellis

The fact that an opinion has been widely held is no evidence whatever that it is not utterly absurd; indeed in view of the silliness of the majority of mankind, a widespread belief is more likely to be foolish than sensible. Bertrand Russell
---
The Economy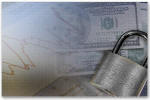 Second quarter economic growth was revised downward from just 1.3% to 1%. Just to stay even with population growth, the economy must grow by about 2%. Anything less than that is not actually growth. These numbers point to a slide back toward recession especially with continued and accelerating reductions in government spending. Overall expectations are for slow growth and very little improvement in the employment rate until demand increases.
Consumer confidence hit its lowest level since August of 2008. Ben Bernanke, the Fed chairman, recently spelled out the Federal Reserve's policy direct for the near future. He essentially said that the Fed would do nothing to help reduce unemployment and spur economic growth. Barring unforeseen good news, it looks like the economy could take several years before it begins to recover from the economic collapse of 2008.
We are seeing service industry materials price increases over the next few months in the single digits despite reductions in some commodity prices.
---
Tax Credits & Rebates
Community Rallies around Injured Electrician
Happy Birthday to Charlie Wallace at QSC