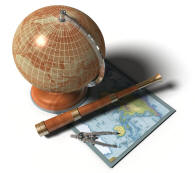 During our conversations with business owners and managers we constantly hear how difficult it is to find the time to "Work On the Business" after working 50 or 60 hours a week in the business. We all know that you build a better business by working on it, but actually doing it on a regular basis can seem like an insurmountable challenge.
In addition to the lack of free time, we often don't know how to get started working on the business. What should we deal with first, and even what does "Working On the Business" really mean. This uncertainty keeps many people from even getting started which makes the everyday business routine seem to be a never ending grind.
So, just what do we mean by "Working On your Business?"
Most of us can say what working on your business is not. It is not creating quotes, or ordering stock, or scheduling your techs. Those may be management duties, but they are working IN the business.
Working on your business requires a different perspective. It involves thinking about and planning for the future of the business. It's improving your processes by figuring out how to make things work better, more reliably, and more simply. It's the process of getting from where your business is today to your ideal business.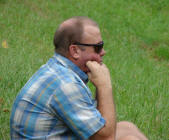 To get started, you need to set aside some time every week to work on the business. Turn off the phone and the Internet, and go somewhere that you can be completely isolated from the daily noise. This simple first step is critical. You must commit to the time away from the business and the other distractions of your life so you can really think.
First, consider the Big Picture of your business rather than the thousands of annoying details. The Big Picture involves visualizing the company you want to build, and then using this ideal business goal for inspiration to make the changes your business needs.
As you create your big picture company and the detailed solutions you need to get there, be sure to write it all down. Documenting your ideas and goals will make them concrete,
and improve your commitment to success.
Picture where you want your company to be in a year, five years, or longer. Create a picture complete with the details about how big the business will be, what trades and specialties you will expand into, how many employees you'll have, what your sales and profits will be, what your role in the company will be.
This Big Picture will serve as your guide as you plan the changes you will make to your business.
This will lead you to the Details. What needs to be changed to accomplish your Big Picture goals. Identify the ladder of problems and changes that you will need to overcome to achieve your Big Picture goals.
Once you identify these detailed steps towards your ideal company, pick one to work on first. Analyze the problem so you can understand its root cause. Then, create a process to overcome the problem. This will be the first concrete change you implement based on your time spent "Working On the Business." Establish exactly what success is, and set up a time line for reaching that success. Implement the changes and monitor your progress until the problem is eliminated.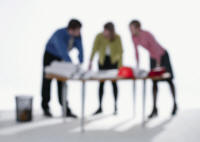 Success at implementing these small process changes will inspire you and your team to continue making the improvements you need to achieve your ideal company.
Like any big project, one of the hardest parts of working on your business is just getting started. Making a commitment of time and effort on a regular basis away from your work in the business is the key starting point. Take the time to establish your long term vision for your company. Just like any major project, break the journey from here to your ideal company into small steps, and implement them one by one.
Just don't forget to take the time out away from the day to day business to evaluate the progress you are making, and to plot your future growth.
---


Give Mike Conroy a call. He can quickly walk you through the business basics that you need to help make your company more consistently profitable. Mike has years of experience helping companies set their own profitable prices, track performance, implement and fine tune Flat Rate systems, and improve profitability.
Take advantage of Mike's experience working with hundreds of companies like yours to help you achieve your own business success.

---
Click Here to Crunch your Numbers Today!
---
Quick Tip - Labor/Profit Rate Setup
Printing your books with prices that match your own business is a key benefit for NSPG Flat Rate users. As your business grows and changes, it is easy to customize your price books to match.
For example, say you want to add Hydronic Heat Service with its own labor and profit rates to your flat rate price books. Just open the Labor/Profit form, and enter your new Activity. You can even import the Hourly Labor Rate directly from your copy of Numbers Cruncher.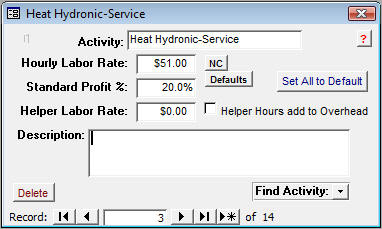 Once you have entered your new numbers for Hydronic Heat Service, you can quickly use them for all of the Tasks you choose. This will allow you to tailor your pricing to the type of job and even to the techs who do that type of work. You can be more price competitive and profitable on every job in your flat rate book.
---
NSPG News
Special Offer: Free Printed Flat Rate Price Book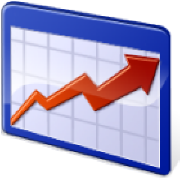 We have decided to extend out special Free printed Flat Rate Price Book offer to anyone who orders our Flat Rate Software (National Standard Price Guide) through our web store.
Get your first Custom Printed Price Book for Free direct from NSPG with your purchase of NSPG Flat Rate Software.
We make it easy to Rise Above the Competition.
Here's how easy Flat Rate can be:
Get your NSPG Flat Rate software.

Enter your information and customize your books any way you want.

With a click of your mouse, send us your Flat Rate Book information.

We will print and bind your Flat Rate books with our high speed color laser publishing system.
That's all there is to it. You spend no time printing and binding your books. You spend no time hassling with your local print shop trying to get the quality you need.
At NSPG, We Make It Easy to get your own custom printed Flat Rate Price Book. Just place your software order via our web store at nspgweb.com now. You will automatically receive credit for your free custom color laser printed Flat Rate Price Book.
This is a limited time web store only offer, so don't delay. Click here, and save some money now.
---
Special Offer

Call 800 841-8542 today to learn about our affordable, no interest, payment plans for NSPG software.

A good End cannot sanctify evil Means; nor must we ever do Evil, that Good may come of it. William Penn

Drive thy business or it will drive thee. Benjamin Franklin

Small opportunities are often the beginning of great enterprises.
Demosthenes

Good ideas alter the power balance in relationships, that is why good ideas are always initially resisted. Good ideas come with a heavy burden. Which is why so few people have them. So few people can handle it. Hugh Macleod

To live a creative life, we must lose our fear of being wrong.
Joseph Chilton Pearce
---
The Economy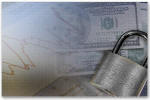 The economy grew 2.5% in the third quarter of 2011, but predictions are for only 1.5% growth through 2012. With these types of numbers, it could be 2020 before employment recovers to the levels seen before the crash in 2008. The economy needs to grow at 3.5% or higher for several years to make a more rapid recovery, and there does not seem to be any source of demand in the private sector that would stimulate that type of activity.
UPS is moderately optimistic about resumed slow growth in the US and world economy.
2012 Economic outlook via Kiplinger's: Business spending up 5%, GDP under 2%, 9% unemployment.
We are seeing service industry materials price changes over the next few months from price reductions for copper to up to 10% for Pex.
---
Free Nexstar Business Tips
Henry McCann Practical Plumber
World's Best Young Electrician