You're Invited

"It is my pleasure to invite you to a "Make A Profit" seminar on July 20th. I will be the featured speaker, and look forward to meeting you at this exciting event".
Mike Conroy
---
Make A Profit Seminar
Many contractors reduce the amount they charge per hour to avoid confrontation about labor rates. This reduces their profits because their expenses remain the same. They end up paying themselves little and having spouses who work the books for no pay.
Most consumers think T&M stands for Too Much as in Too Much cost to them and Too Much profit to you.
This seminar will show companies how to break down and understand their billable hour efficiency, their cost of doing business, their breakeven costs and the difference between a margin method and a markup method when pricing a job. It is our firm belief that understanding any and all of these discussion items will return your cost of attending in a matter of days.
THE GAME PLAN

What are billable hours and why are they important?
What does break even mean and how do we calculate it?
Proper Pricing Methods?
How to keep score and why that is so important.
And, much more!
The Speakers:
David Ion had over 28 years in the service trades and was a Frank Blau disciple of Up Front Pricing. Today David is a financial adviser and retirement specialist helping many small to mid size companies succeed.
Mike Conroy has over 30 years in the trade, is a 3rd generation Master Plumber and created NSPG (Numbers Cruncher) software and Price Books for the service trade in the early 90ís.
Location: Embassy Suites in San Luis Obispo
Time: 9:00AM until 4:30PM with a 45 minute lunch break
Date: July 20th 2012
Cost: $199 if paid by July 13th and $249 after July 13th and at the door.
We reserve the right to exclude anyone and only members of the service trades will be able to attend.
*Mail payments to:
David Ion
2106 9th St.
Los Osos, CA 93402

*Make checks out to David Ion and note NSPG in the memo section.
e-mail: insuranceonramp@gmail.com for more information
Trades Allowed: Plumbing, HVAC, Electrical, Appliance Repair, Landscapers, Roofers
"If you don't drive your business, you will be driven out of business". B. C. Forbes (Founder of Forbes magazine)
---


Give Mike Conroy a call at 800-841-8542. He can quickly walk you through the business basics that you need to help make your company more consistently profitable, and increase the value of your business. Mike has years of experience helping companies set their own profitable prices, respond to price complaints, track performance, implement and fine tune Flat Rate systems, and improve profitability.
Take advantage of Mike's experience working with hundreds of companies like yours to help you achieve your own business success.

---
Click Here to Crunch your Numbers Today!
---
The Numbers Cruncher Quick Job form is a fill in the blank form that allows you to quickly quote any job based on just a few pieces of information using your own actual business cost numbers. This is a simplified live version of the Task Grid built into NSPG Flat Rate Price Books that has become so popular with our users.
In Numbers Cruncher, you can open the form by hitting ctrl - Q.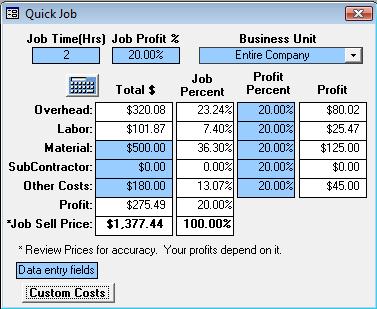 Profit%
In addition to allowing you to quickly calculate a job, you can customize the Profit% for your Overhead, Labor, Material, and Other costs.
Custom Costs
You can override the Numbers Cruncher Overhead and Labor values to calculate a job that requires a special pricing structure. This will allow you to quickly create a lower job price as a loss leader, or a higher job price for a high skill or difficulty job.
Division Pricing
You can also quickly calculate jobs based on the individual division overhead and labor costs calculated by Numbers Cruncher.
Stand Alone
The final feature is that you can turn Numbers Cruncher default mode into a job calculator by making a selection on the Configuration tab of the Setup form. This will allow you to have employees do a quick calculation without revealing all of your business details.
Give the new Quick Job form a try, and remember that you must be sure that the numbers make sense for your business by reviewing them on a monthly basis.
---
QSC Power Meeting - July 26 -28, 2012
QSC Power Meeting XXXVII - Hyatt Regency, Indianapolis, IN
---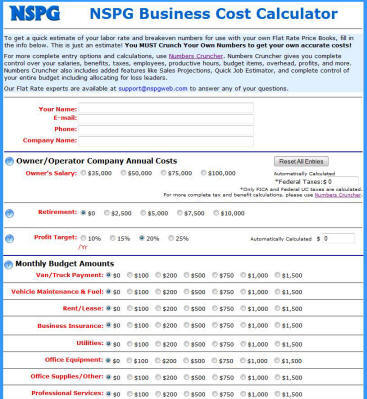 We know that not everyone has Numbers Cruncher for calculating their breakeven and other numbers critical for setting their prices, so we have created a quick business cost calculator on the NSPG web site.
This simple calculator takes your selections from a series of choices, and returns estimates of several values that are critical to setting your profitable prices.
The numbers that it returns can be plugged directly into our our order form for printed Flat Rate Price Books. You can also use it to get a quick look to see if the numbers you're using are realistic for your actual costs.
This free calculator is designed for a simple one person owner/operator business and includes several financial assumptions with that in mind.
If you need a more complete and more flexible way to calculate your key costs and pricing numbers, you should use Numbers Cruncher.
The added benefit included with your Numbers Cruncher purchase is a complete Numbers Review by an NSPG Flat Rate expert. We can help you spot where you may be spending too much or too little based on our experience with thousands of businesses.
---
Batwings on Kite Island (video)
---
Special Offer

Call 800 841-8542 today to learn about our affordable, no interest, payment plans for NSPG software.

Some people are born on third base and go through life thinking they hit a triple. Barry Switzer

I take my children everywhere, but they always find their way back home. Robert Orben

A little inaccuracy sometimes saves tons of explanation. Saki

It is not bigotry to be certain we are right; but it is bigotry to be unable to imagine how we might possibly have gone wrong. G. K. Chesterton

Against logic there is no armor like ignorance. Laurence J. Peter
---
The Economy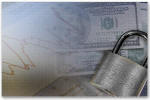 The Chicago Fedís National Activity Index three-month moving average fell to
-.34, the lowest level since last June. This indicates that the U.S. economy is slowing down. New home sales hit their highest level in two years, up 7.6% from a month ago and 20% from a year ago. Consumer spending and wages were flat in May.
We are seeing announced industry price increases from 6 to 15% in a range of products.
---
Get the Lead Out
Windows XP Support ends in 2 years